Shopping Centre London- whiteleys shopping centre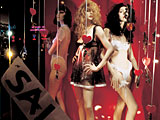 William Whiteleys original vision for his shopping emporium was summed up as a place where you could sell anything from a pin to an elephant. Approximately 100 years later and it would seem the founder's dream has truly materialized. With innumerable shops, a multiplex cinema and plenty of restaurants, fashion, fun and food are all available within the walls of this refreshingly chic shopping complex. At Space Apart Hotel you are a leisurely stroll away from this retail haven in the heart of W2.
The Queensway and surrounding shopping district are filled with many top quality fashion shops; and there are also a number of designer boutiques alongside hair and beauty salons. Tesco and Sainsbury, two of the UK's largest supermarkets, also have a presence here.
A short journey on the Tube's central line will take you into Oxford Street. Whilst Harrods, the world's most famous department store, is but a short distance away in Knightsbridge. For those who relish a more bohemian shopping experience, there can be nothing better than a trip to London's most famous street market on the nearby Portobello Road.