London Nightlife | Clubs in London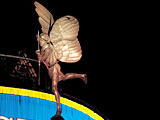 As the sun sets over the River Thames ushering in nightfall, lights slowly go on up and down the city and London is gradually transformed into a glittering social hotspot.
London is an extremely energetic city with a vibrant nightlife and West London can proudly boast of some of the best nightspots in the capital. Space Apart Hotel is fortuitously located in this highly desirable vicinity. West London nightclubs and bars have long since been a favourite preserve of the city's socialites. Many of these establishments provide a perfect welcome for those seeking to let their hair down after a hard day's work, or play. Everything from live music to the capital's best DJs can be enjoyed at such places as Notting Hill Arts Club, Mau Mau, Fabric and Cherry Jam.
Leinster Arms is a great option for anyone looking to relax with a drink at a great local watering hole. And for those faithful followers of snooker and billiards, Harlem Underground presents an ideal venue while Gala Casino offers black jack, roulette, poker and card rooms.