Space Apart Hotel

near Hyde Park/ Bayswater Hotel

The Space Apart Hotel is a newly refurbished, luxury Georgian building near Hyde Park and is truly an exquisite gem. Space Apart Hotel combines classic historical elements with contemporary style creating the perfect short stay accommodation in London that reflects today's design values. In keeping with this principle, each of these serviced London apartments are tastefully interior designed, sumptuously furnished and benefit from state-of-the-art technology on all levels. Spread over six floors, accommodation at the Space Apart Hotel comprises of thirty impeccably presented self-contained short stay serviced apartments, some of which are suitable for up to 4 occupants.

Conveniently situated in Kensington Gardens Square a popular spot in the highly fashionable Westbourne Grove, Space Apart Hotel is a short walking distance from Hyde Park, Bayswater and Notting Hill. It also benefits from excellent train, underground and bus links. The West End's famous theatre district can be reached within 5 to 10 minutes. Located in the heart of the world's most cosmopolitan city, Space Apart Hotel ensures corporate travellers and visiting guests unrivalled access to some of London's most sought after cultural, commercial, social, artistic and architectural landmarks, making this the perfect place to rent a serviced short stay apartment in London.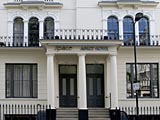 Space Apart Hotel is ideal for those looking for short term accommodation or a corporate serviced apartment in London. It is the ideal location for business travellers, holidaying couples, small families as well as tourists who enjoy the energy and vibrant pace of London life, but seek peace and tranquillity once the day's activities are over.
Space Apart Hotel comprises of beautifully furnished luxury serviced London apartments which give an authentic home away from home. Our short stay serviced apartments possess comprehensive multi-media platforms including high-speed internet access and the highest quality home entertainment systems. With a host of markets and supermarkets on your doorstep, the option of preparing your own culinary delights and eating in couldn't be easier with a high specification, well equipped kitchen with all the necessary appliances.
Whether you are seeking a Michelin star restaurant, a 'celebrity' nightclub, horse riding in Hyde Park, shopping at Selfridges or antique spotting along Portobello Road, you can comfortably and conveniently pursue any of these favoured interests from the convenience of one of our short stay serviced apartments within our exclusive apart hotel.
We look forward to extending a warm Space Apart Hotel welcome to you.